Dental Implants – San Juan Capistrano, CA
A Permanent Solution to Your Tooth Loss
With nearly 120 million Americans missing at least one tooth, a permanent tooth replacement solution is often the most requested option. According to the American Dental Association, more than 5 million dental implants are placed each year in the U.S. Contact us if you're ready to discover how you can become one of the millions embracing a better life with dental implants from our San Juan Capistrano, CA dentist.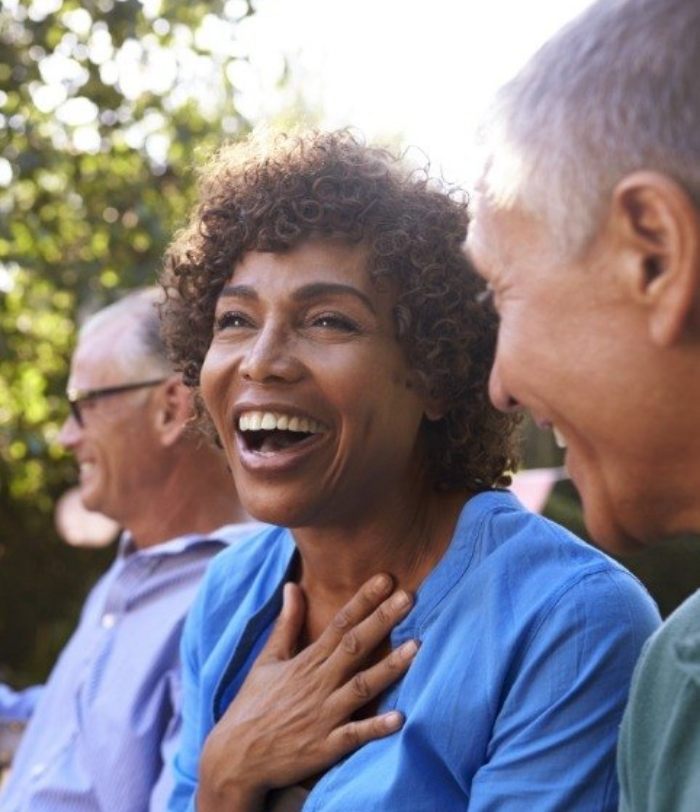 Why Choose Platinum Dental Group for Dental Implants?
In-House Start-to-Finish Process
CT/Cone Beam Scanner for 3D Imaging
Sedation Dentistry Available
What are Dental Implants?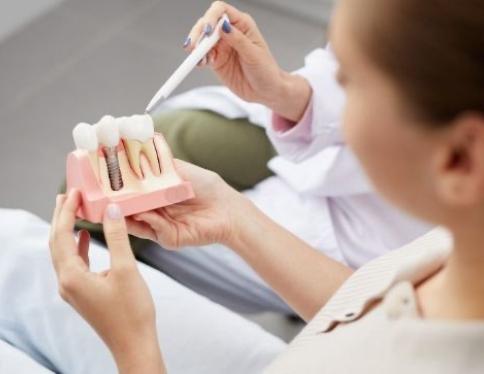 Dental implants are titanium or zirconia tooth replacements that are designed to restore the entire tooth structure from the root to the crown. Surgically implanted into the jawbone, they fuse with the bone through a process known as osseointegration. Their ability to provide greater stability, functionality, longevity, and better oral health makes them a popular option for individuals suffering from tooth loss.
The 4-Step Dental Implant Process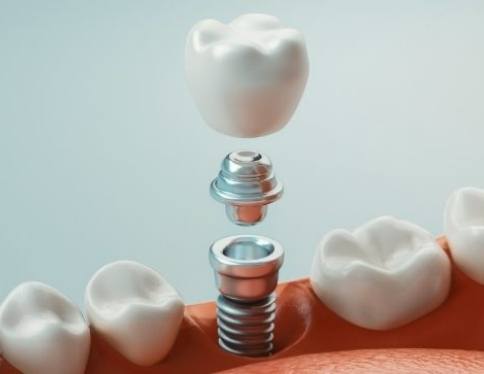 Every dental implant patient has a different treatment plan, but the same steps must be followed to ensure the placement is successful. Learning how dental implants work is necessary so you can better understand the process and prepare for each stage, which consists of four steps: initial consultation, dental implant surgery, osseointegration, and delivery of the final restoration.
Initial Dental Implant Consultation: You will meet with Dr. Omrani to discuss your candidacy and if you require preliminary treatment before receiving your dental implants.
Dental Implant Surgery: You'll receive local anesthesia before we make one or more small incisions in your gums. We'll carefully place each dental implant before closing the gum tissue.
Dental Implant Osseointegration/Abutment: Over the next 3-6 months, osseointegration will occur that causes the bone and implants to fuse. Once healed, you'll return to receive your metal abutments.
Delivery of Dental Implant Restoration(s): The final step is to receive your customized restoration. Crowns, bridges, or dentures are all possible options depending on how many teeth are missing.
Benefits of Dental Implants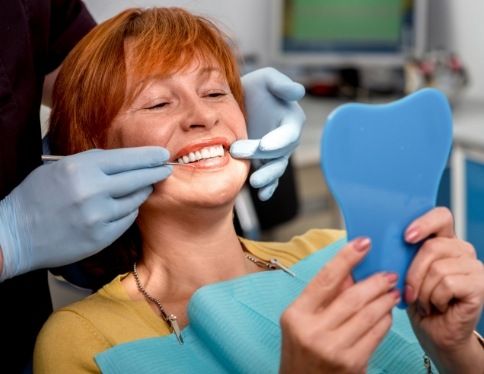 The benefits of dental implants in San Juan Capistrano cannot be matched by any other form of tooth replacement. When looking at the advantages that come with permanent prosthetics, you will quickly discover why they are considered a superior solution when compared to dental bridges and traditional dentures. Take a look at the available benefits below.
Day-to-Day Benefits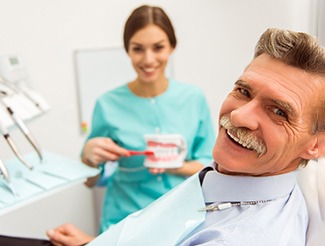 Enjoy your favorite foods – Dental implants in San Juan Capistrano make it easy to eat your favorite foods without worrying about your prosthetics slipping or falling out.
Achieve a better quality of life – Instead of focusing on what others might think about your smile, you can feel more confident in your ability to speak, eat, and smile.
Easily maintain your new smile – Cleaning dental implants doesn't require additional products such as denture cleaner or tiny brushes. Instead, you can use the same oral hygiene instruments you have at home. The only alteration that is recommended is that you use a non-abrasive toothpaste to avoid damaging your new teeth.
Health Benefits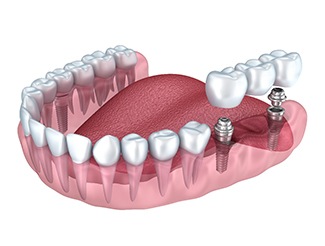 Preservation of remaining teeth – Traditional fixed bridges must connect to healthy abutment teeth in order to remain in place. However, with dental implants, the posts are situated within vacated sockets, preventing any altering or adjustments to your natural, healthy teeth.
Stimulate the jawbone – Tooth loss is known to cause jawbone deterioration over time. However, with permanent prosthetics, the bone remains dense, keeping your face from sagging, and your teeth firmly in place instead of becoming loose.
Stabilize adjacent teeth – Anytime a tooth falls out or is extracted, timely replacement is essential. Otherwise, nearby teeth will begin to drift out of alignment. As a result, this causes the potential for orthodontic treatment in the future.
Long-Term Benefits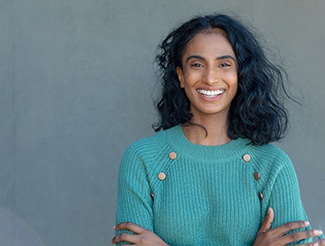 High-success rate – When initially placed by a skilled implant dentist in San Juan Capistrano, dental implants have a success rate of 95% or higher. After 10 years, these prosthetics can maintain a success rate between 90-95%, making them one of the most reliable tooth replacements on the market.
Last for several decades – When properly cared for and maintained, dental implants can last 30+ years or longer, which is vastly different from the 10-15 years for dentures and dental bridges.
Cost-effective solution – Although they are more expensive initially, dental implants are more cost-effective in the long run. This is true simply because they do not require additional products for maintenance (i.e., denture cleanser or denture adhesives), they do not require frequent replacements or adjustments, and they serve to improve both your oral and overall health.
Who Dental Implants Can Help
Dental implants are often a viable option for most adults living with tooth loss. While many can freely move on to dental implant surgery following the initial consultation, there is a good chance you will require preliminary treatment, especially if much time has passed since losing your teeth. Dr. Omrani will determine if you need bone grafting, a sinus lift, periodontal therapy, or tooth extraction to better prepare your smile for surgery.
Missing Single Tooth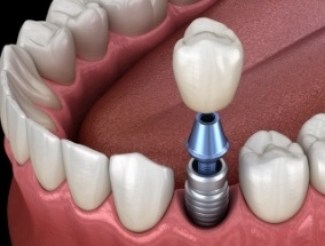 A single missing tooth can be replaced using one titanium or zirconia implant post as well as a customized dental crown. This will allow you to eat, speak, and smile with greater ease and avoid the potential for dental drift that can occur with tooth loss.
Missing Multiple Teeth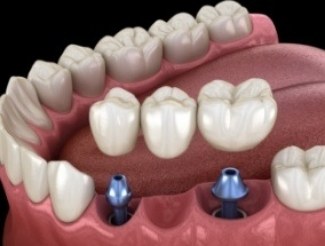 Missing two or more teeth doesn't mean you have to settle for a dental bridge or partial denture. Instead, we can use two dental implant posts as anchors for your customized bridge. There's no altering of your healthy teeth, so you can keep more of your natural tooth structure.
Missing All of Your Teeth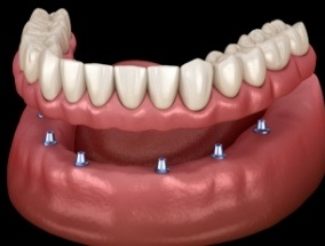 An entire arch of missing teeth can be restored with the help of 4-6 dental implants. Unlike dentures that only sit on top of the gums, we can surgically place each post to create a foundation for your implant denture, allowing for optimal functionality and improved appearance.
Understanding the Cost of Dental Implants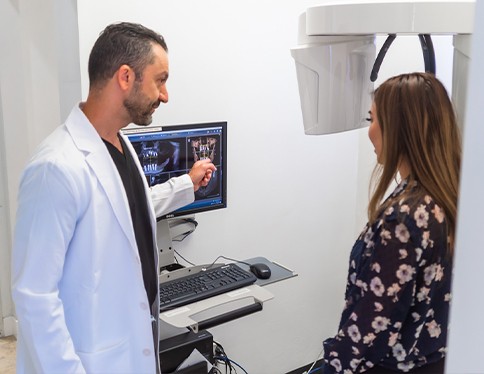 The cost of dental implants will vary from person to person, which is why it is essential that you schedule a consultation with Dr. Omrani. Once he identifies that you are a candidate for treatment, he will develop a cost estimate that includes the various components of your plan. If you're concerned about affordability, our team will work to maximize your dental insurance benefits and explain alternative options to keep your out-of-pocket expenses low. Read on to learn more about the cost of dental implants in San Juan Capistrano.
Preliminary Treatments & Dental Implant Surgery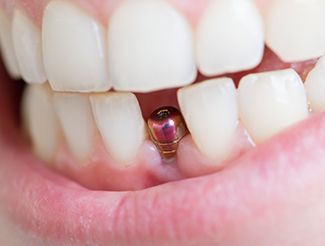 Not everyone is a good candidate for dental implants right away. If you need a preliminary treatment like gum disease therapy or a bone graft, the cost of these services will naturally add to the final price of your dental implants. Additionally, the cost of the dental implant surgery itself will incur a cost of its own, which will depend on factors like where in the mouth your implants are being placed and what type of sedation dentistry you choose. Fortunately, since we provide start-to-finish dental implant treatment, you won't need to worry about calculating costs for an unfamiliar outside specialist.
The Parts of Your Dental Implant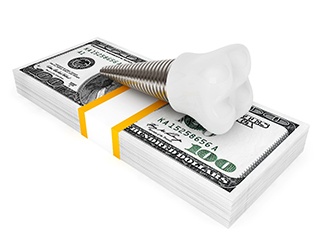 During your consultation, these are the main factors we'll consider about your dental implants when creating your estimate:
Number of dental implants: Naturally, the more implants you need, the higher the cost will be. If you're missing multiple teeth, investing in a dental bridge or denture will likely be more cost-effective than replacing each tooth individually.
Type of restoration: Dental implants can support crowns, bridges, and dentures, all of which are custom-made and come at their own price points.
Size or material: Depending on your unique situation, dental implants can come in various sizes (like mini dental implants) or materials (like zirconia). These factors will influence the cost of your dental implant treatment.
Brand of dental implant: Just like cars or cell phones, there are numerous companies that manufacture dental implants, some of which are catered specifically towards patients looking for specific features in their new smile. We only partner with trusted, well-known brands for optimal results. To learn more about where your dental implant is coming from, don't hesitate to ask us during your appointment!
How Dental Implants Can Save You Money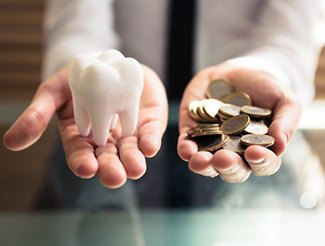 Initially, dental implants cost more than traditional forms of tooth replacement, like dentures and dental bridges. Over time however, studies show that dental implants are by far the more cost-effective option! Dentures and dental bridges need to be replaced every several years, and they don't do very much to prevent future tooth loss or oral health issues. On the other hand, dental implants do and have the potential to last a lifetime, which can easily save you thousands of dollars in just a few years.
Does My Dental Insurance Cover Dental Implants?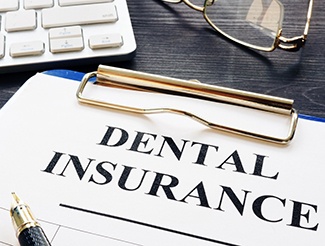 Currently, most dental insurance companies do not cover dental implants. While this is gradually changing, it's best to check the details of your plan to see what your coverage includes. Many policies will offer some coverage for parts of the dental implant treatment, such as preliminary procedures or the restoration. One of our knowledgeable front desk staff will be more than happy to ensure your benefits are being maximized.
Making Dental Implants Affordable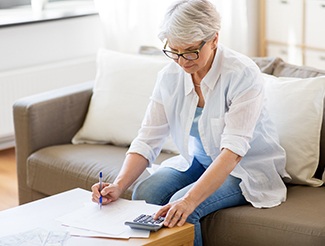 Dental insurance isn't the only way to help make your new smile affordable thanks to options like:
Flexible Financing Through CareCredit or Lending Club: These payment plans allow patients to break up the cost of their dental implants into smaller installments that fit into their monthly budgets.
Our In-House Membership Plan: For our uninsured patients, you can enroll in our own in-house membership plan for a low monthly fee (or a one-time lifetime activation fee) that will save you money on the treatments you receive at our practice.
Limited Time Special Offers: We provide seasonal special offers for our patients, including FREE second opinions and single dental implants as low as $199/month!
Maintaining & Caring for Your Dental Implants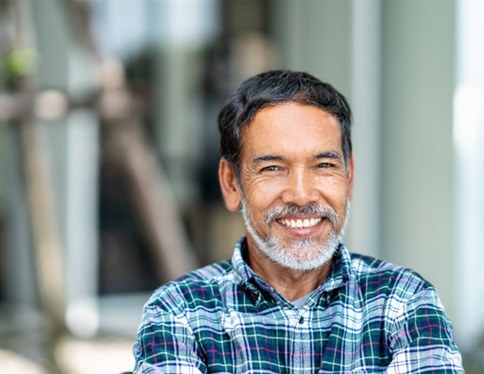 Dental implants can last for more than 30 years or even the rest of your life if you are taking all the right steps to care for them. If you aren't taking the time to protect your dental implants from becoming damaged, they could end up failing and needing to be replaced. The good news is that with just a few simple precautions, you can keep your implants healthy and enjoy their benefits for numerous years down the road.
Make Oral Hygiene a Priority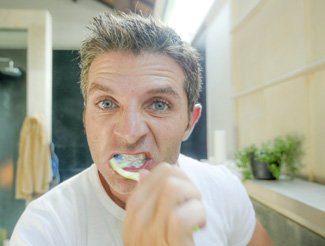 Dental implants cannot get cavities themselves, but you should still practice excellent oral hygiene despite that. In addition to keeping your surrounding teeth in good shape, sticking to a great oral hygiene routine can prevent other dental problems, like gum disease, that can cause your implants to fail. Remember to brush, floss, and rinse with mouthwash every day.
Eat a Healthy Diet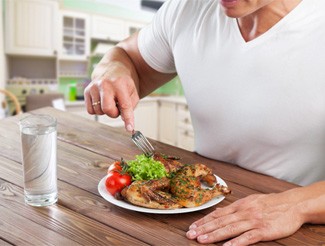 One of the many benefits of getting dental implants is the fact that you won't have any eating restrictions. You can easily enjoy nutritious meals without struggling to chew. Just remember that enjoying too many foods that are hard, sticky, or sugary can be problematic for your oral health, so it still pays to be wary.
Break Bad Habits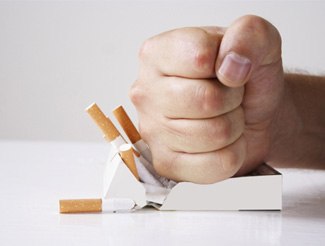 Refrain from smoking or using tobacco products immediately after your dental implant placement procedure. This can slow down healing and increase your risk of developing an infection. Don't use your teeth as tools either. You could end up accidentally damaging your dental implants or surrounding teeth. Instead, try to find some scissors, pliers, a bottle opener, or another tool to help you safely complete your task.
Protect Your Dental Implants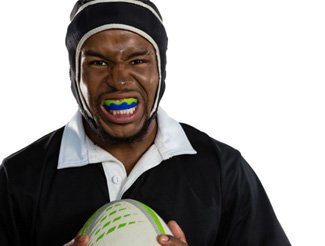 Your dental implants may be strong, but they aren't indestructible. You should always wear a mouthguard to protect your dental implants and natural teeth when participating in sports. If you grind your teeth at night, ask about a nightguard to protect your implants from additional wear and tear.
Schedule Regular Dental Checkups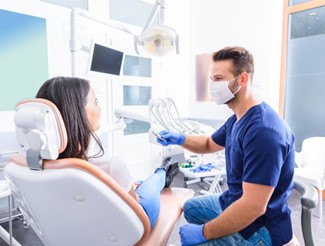 You should always attend regular cleanings and checkups twice a year. This way, we can monitor your dental implants and spot any issues as early as possible. By catching potential problems now, you can prevent them from becoming more serious and leading to greater consequences, like a dental implant failure.
Dental Implant FAQs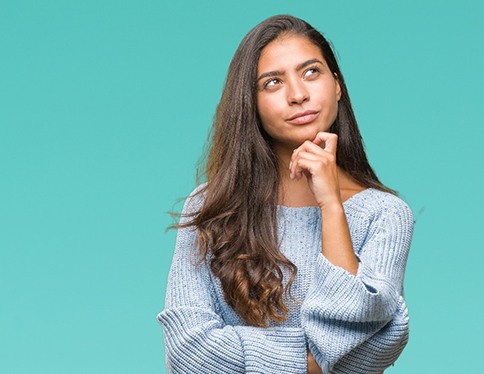 Ready to say goodbye to the gaps in your smile? If so, you're probably thinking about getting dental implants in San Juan Capistrano. Since it's a major procedure that requires oral surgery, it's completely normal to have several questions about it. Below, we've decided to answer some of the most frequently asked questions we get from patients. If you don't see what you're looking for, feel free to reach out to our friendly team!
How Long Do Dental Implants Last?
On average, dental implants can last well over three decades. However, the exact lifespan can vary significantly based on a patient's health and lifestyle. If you want your newly rebuilt smile to last as long as possible, you must take proper care of it. Brushing twice a day, flossing daily, and rinsing every day with an ADA-approved mouthwash are a few excellent ways to ensure the long-term success of your implants. Don't forget to attend routine checkups and avoid chewing hard, sticky foods. It's worth noting that implants are designed to last much longer than traditional bridges or dentures.
Does Getting Dental Implants Hurt?
Before the procedure begins, Dr. Omrani will numb your mouth with a local anesthetic to ensure you're completely comfortable. You'll also most likely be sedated, which will lower your body's ability to register pain. Although the surgery itself shouldn't hurt, your mouth will feel sore and sensitive for the next few days. The good news is you can easily manage your discomfort by taking prescribed or over-the-counter pain medication, using cold compresses, and diligently following your aftercare instructions. If your symptoms worsen instead of improving, give our office a call for assistance.
What Can Cause Dental Implants to Fail?
Even though it's uncommon, dental implant failure usually occurs for one of two reasons:
Peri-Implantitis – A form of gum disease that develops from poor oral hygiene, damaging the bone and gums supporting the implant.
Failed Osseointegration – This happens when the implant fails to successfully integrate with the jawbone. It's more common in patients who had low jawbone density to begin with.
A few other causes of dental implant failure include chronic teeth grinding (bruxism), tobacco use, poor oral hygiene, and certain medications. During your consultation, Dr. Omrani will explain how you can minimize your risk of implant failure.
Can I Get Dental Implants If I Smoke?
It's certainly possible for smokers to get dental implants, but they have a higher rate of implant failure. Smoking and chewing tobacco cause dry mouth, which delays healing and interferes with the implants' ability to fuse with the jawbone. For that reason, it's strongly recommended that smokers quit at least two weeks before the procedure and wait to resume the habit for at least two to three months afterward. Of course, this is the perfect opportunity to kick the habit to the curb for good.