Dentures – San Juan Capistrano, CA
Durable & Natural-Looking Restorations for Your Smile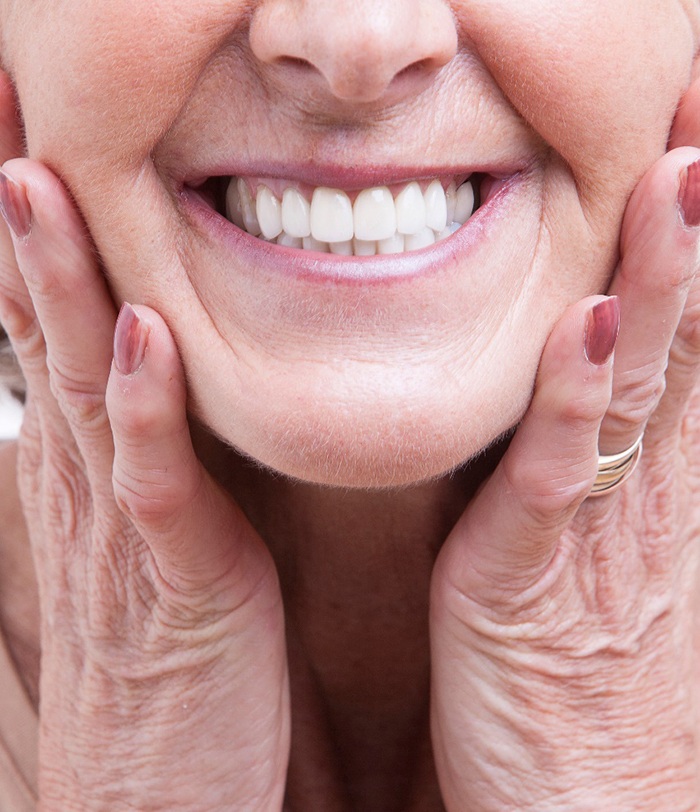 Dentures are one of the most effective restoration treatments for renewing missing teeth. Although they have a long track record and have been popular for decades, modern dentistry has made them even more durable and lifelike than ever before. For this reason, they continue to be one of the top tooth-replacement options out there. If you're struggling with tooth loss, feel free to speak with our team at Platinum Dental Group about dentures in San Juan Capistrano. Read on or give us a call today to schedule your initial consultation!
Why Choose Platinum Dental Group for Dentures?
Durable & Natural-Looking Restorations
Professional, Dedicated & Caring Dental Staff
Accepts Dental Insurance & Alternative Financing Options
Who Is a Good Candidate for Dentures?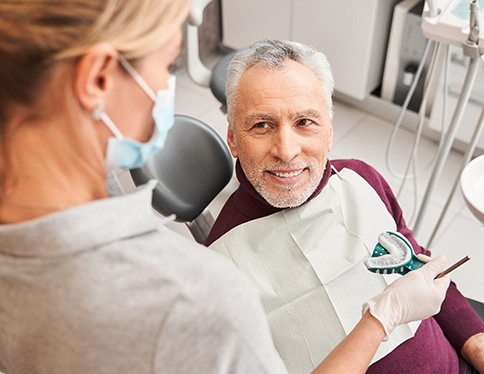 Are you struggling with moderate to extensive tooth loss? If so, then you're likely a good candidate for dentures. This tooth-replacement option is specifically designed to renew your smile, speech, and bite, which will drastically improve your quality of life. Even if you have any developing issues in your smile, such as gum disease or an infected tooth, you can undergo preliminary treatments to get you back on track with good oral health to prepare you for your future dentures.
Types of Dentures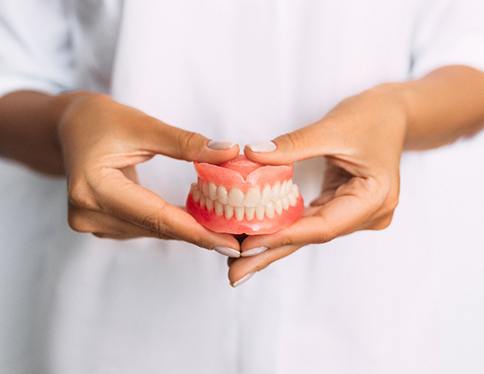 By replacing missing teeth with dentures, you can effectively restore your ability to chew comfortably, talk clearly, and smile confidently. To achieve this, every patient's restoration will be custom-designed to address their unique dental needs. Here are three common types of dentures you can choose from:
Partial Dentures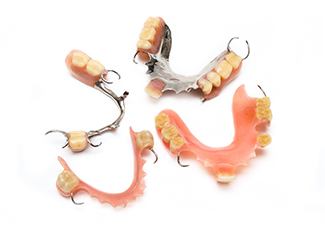 As the name suggests, these dentures are made to address partial tooth loss. If you have some or most of your remaining natural teeth intact, this may be the ideal option for restoring your smile. This dental appliance consists of a series of metal frameworks beneath a gum-colored base that fastens to your remaining permanent teeth. This allows your natural-looking prosthetic teeth to blend seamlessly to fill the gaps, providing you with a reliable and beautiful smile.
Full Dentures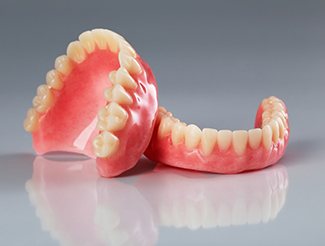 Do you have an entire arch of missing teeth? Full dentures will be the best solution for your dental needs. While this appliance also has a gum-colored base, your replacement teeth will be secured via natural suction to the gums, denture adhesive, or a combination of the two. Your prosthetic teeth will effectively restore your smile and your capacity to chew and speak comfortably.
Implant Dentures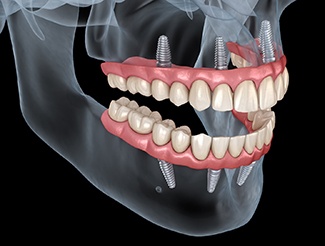 If you want a more comprehensive and lifelike solution for rebuilding your smile, then dental implants are the state-of-the-art treatment you've been looking for. By first inserting titanium posts into your jawbone, we'll be able to secure your dentures directly to them. Since the metal posts will serve as your new permanent roots, you won't have to worry about keeping your restorations in place with your gums, denture adhesive, or other healthy teeth. With proper care, you can expect to enjoy your implant dentures for several decades before needing to replace them.
The Benefits of Dentures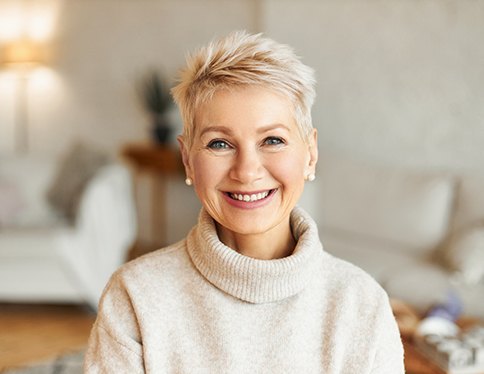 Our team will walk you through your restoration options and assess your situation to determine which is best for you. Here are several benefits you can be sure to appreciate with dentures:
Completely personalized treatment for every patient
Durable, lifelike, and cost-effective restoration
Requires simple and easy maintenance
Helps preserve your youthful facial shape
Can last 10 years with proper care (or 20+ years with implant dentures)